Diving for luminous LED tiles against fear of water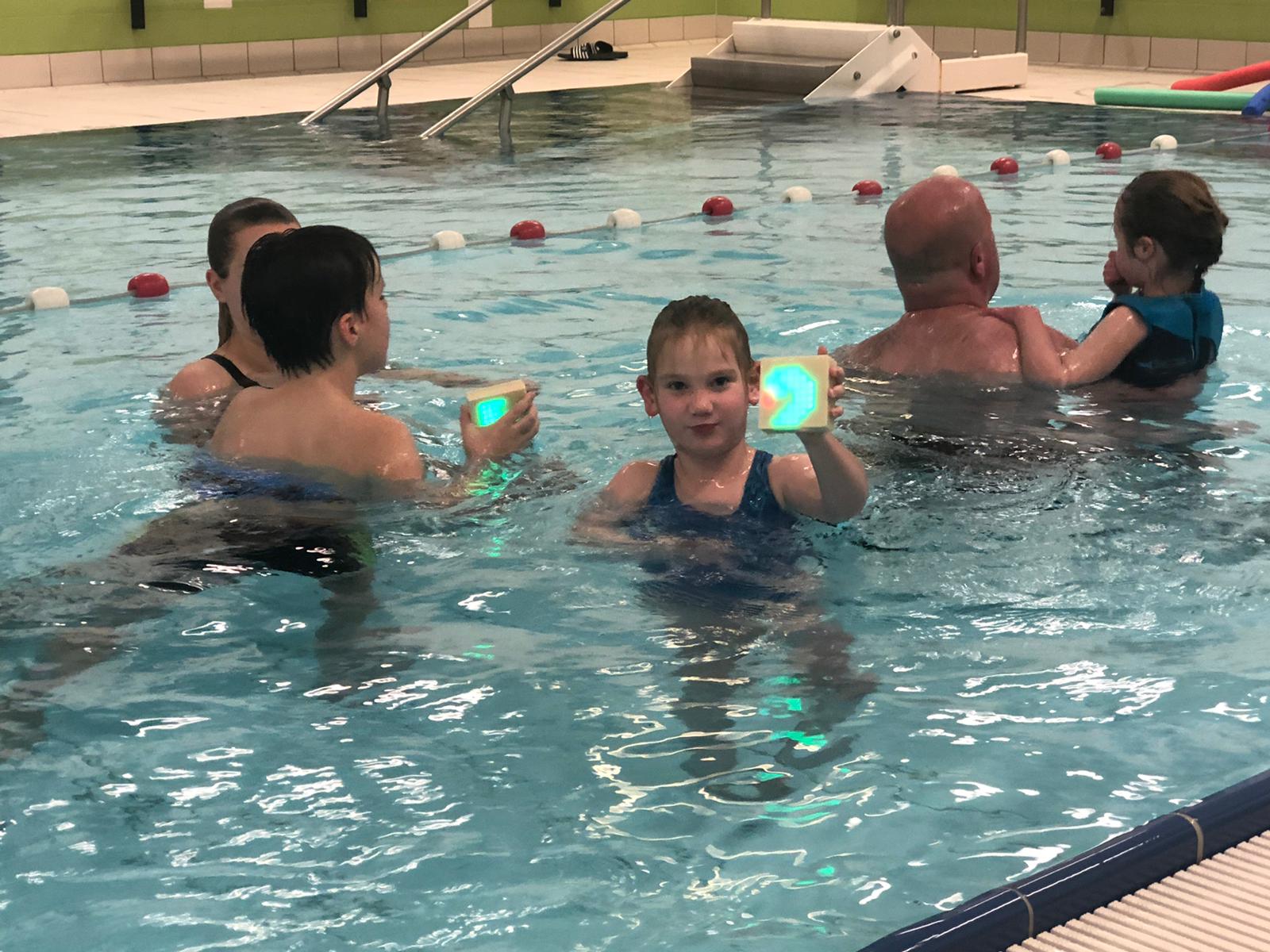 Underwater swimming and orientation can be exciting. Especially for a child who is just learning to swim. Or for a child with a mental disability, for whom swimming often takes more time to master anyway. The luminous LED tiles developed by the InnoSportLab de Tongelreep (ISLT) change this. This is shown by the graduation research of Jorn Beurskens, fourth-year student in Sports Science at the Hogeschool Arnhem en Nijmegen (HAN).
Jorn proceeded the research of Anna Dingenouts'. She drew up a plan on how to use the tiles in the swimming lessons. Because of corona, Anna could not actually investigate the children's reaction to the tiles. Jorn, however, was able to ask for that reaction.
"First I have established contacts with various swimming schools and organisations for people with mental disabilities," Jorn says. He drew up a survey. In which he asked instructors and movement experts if they think the tiles will be valuable for a swimming lesson. There were forty responses to that survey, Jorn continues. Some swimming instructors and movement experts reacted so enthusiastically that "they wanted to test the LED tiles in practice". So Jorn made arrangements to visit with the tiles.
"Fortunately, just before the swimming schools closed for a fortnight in November, I had already made arrangements. I was able to reschedule these after the two-week closure". He went twice to Stichting Koprol in Nijmegen and once to Stichting Bijzonder in Beweging in Gennep & Echt. He also visited two swimming schools: Zwemschool de Hoefsevonder, in Berlicum and Zwemschool Sandra, in Den Bosch. He also interviewed the movement teachers and swimming instructors as an in-depth look at the results of the survey.
Because the tiles are still a prototype, Jorn collects as much feedback as possible. For an improved next version, he explains. He has yet to incorporate his research into a final report. The student will complete that report in February. However, he can already say that the children are "really super enthusiastic". "Children are used to playing videogames. You can play a variety of fun games with those tiles. According to the instructors, it really is an innovation of our time".
The LED tiles are part of the large project 'Unlimited swimming'. The aim of this project is to enable children with a mental disability to swim as much as possible. "It's nice to see that children, who have a lot of trouble swimming underwater, still go underwater. They find it difficult to look underwater, but the luminous figure challenges them. You can't see what the figure is from a distance, you really have to swim towards the tile to do that".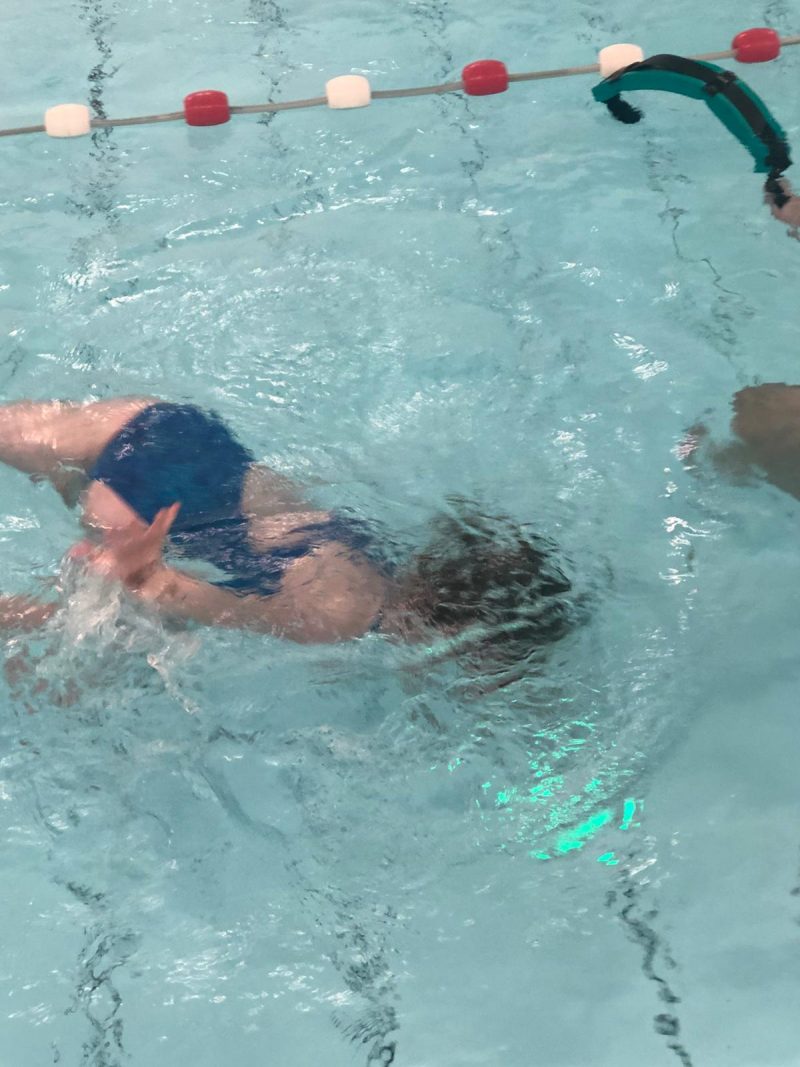 Jorn also discovered that the tiles stimulate other aspects. Such as working together, "that social interaction which is needed to make a puzzle out of the tiles, for example". Swimming is one of the most popular sports for these children, according to research conducted by the Mulier Institute, which she did on behalf of "Grenzeloos Actief" and figures from the KNZB and Unique Sports. According to Jorn, these tiles are certainly of value to make swimming lessons more fun. "And when the swimming lesson is over, that the children want to continue to swim".
Before that happens, the next version will have to be produced. Just like Anna, Jorn also has several points for improvement. He incorporates these in his report. Somebody else can work on that. He doesn't yet know what Jorn will do after graduation. "What I do know is that I have a great deal of affinity with the target group of children with a mental disability. And who knows, I might be able to continue with the development of the LED tiles".
Jorn's research is for Alja Huibers, embedded scientist at ISLT and project leader 'Unlimited swimming', a confirmation to continu the develop of the LED tiles. "Even without having seen or used them, we get enthusiastic reactions from swimming instructors. Because it contributes to innovation in swimming lessons and is so effective against fear of water".
That is why the ISLT is proceeding with market research. Alja: "Who is really interested, what should the game look like and how much is a swimming school willing to pay for it? There will also be an investigation into whether it is feasible for ISLT to market the tiles and which parties could produce the product.
Alja: "Anna and Jorn have done very nice preliminary work. It promises to be an improvement for swimming lessons. We simply cannot leave this unfinished".
Unlimited swimming' is made possible in part by Agis Innovation Fund and with a solidarity contribution from the common religious in the Netherlands through KNR projects in the Netherlands (PIN). The tiles are also part of the project Vitality Living Lab, in which 16 parties are working towards a more vital society.