InnoSportLab de Tongelreep en British Swimming faciliteren video service in de Europese Kampioenschappen in Rome
——————————————————
In opdracht van de LEN (Ligue Européenne de Natation) verzorgen de analisten van InnoSportLab de Tongelreep samen met hun collega's van British Swimming een video service tijdens de EK in Rome. Opdracht van het team ter plaatse is om alle races gedurende de zeven wedstrijddagen te filmen en direct na afloop van de race online te delen met de video analisten en coaches van de andere landen. Om deze belangrijke taak zo goed mogelijk te kunnen vervullen filmen 10 analisten allen een eigen baan met Full HD camera's. Direct na afloop van de race wordt het SD kaartje uit de camera gehaald, geeft de analist het filmpje volgens vaststaand protocol razendsnel een naam en wordt de video naar de cloud geüpload. Hierna volgt snel de volgende race, waar hetzelfde proces telkens herhaald wordt.
Bovendien, twee andere teamleden houden direct contact met de andere analisten van de andere landen, controleren of alles geüpload wordt en bewaken de kwaliteit van de video's. Omdat de EK in Rome in een buitenbad plaatsvinden hebben onze analisten te dealen met snel veranderende (licht) omstandigheden en moeten de instellingen van de camera's continue aangepast worden om zo goed mogelijke video's te maken. Deze video's worden door velen Europese zwemanalisten gedownload en gebruikt om niet alleen hun eigen zwemmers, maar ook de concurrentie te analyseren. Via de videoservice worden deze beelden voor iedereen beschikbaar gesteld wat het Europese zwemmen ten goede moet komen.
It is now the 5th tournament that InnoSportLab is asked to fulfill this honorable task. Our analysts were also present at the European Championships in Budapest, EJK in Rome and European Championship short course in Kazan last year and last July we were at the EJK in Bucharest. Until now, foreign analysts said to be satisfied and we are doing our utmost to facilitate everyone in Rome as well as possible!
Oh yes, and of course we try to enjoy the beautiful pool in Rome while working.
——————————————————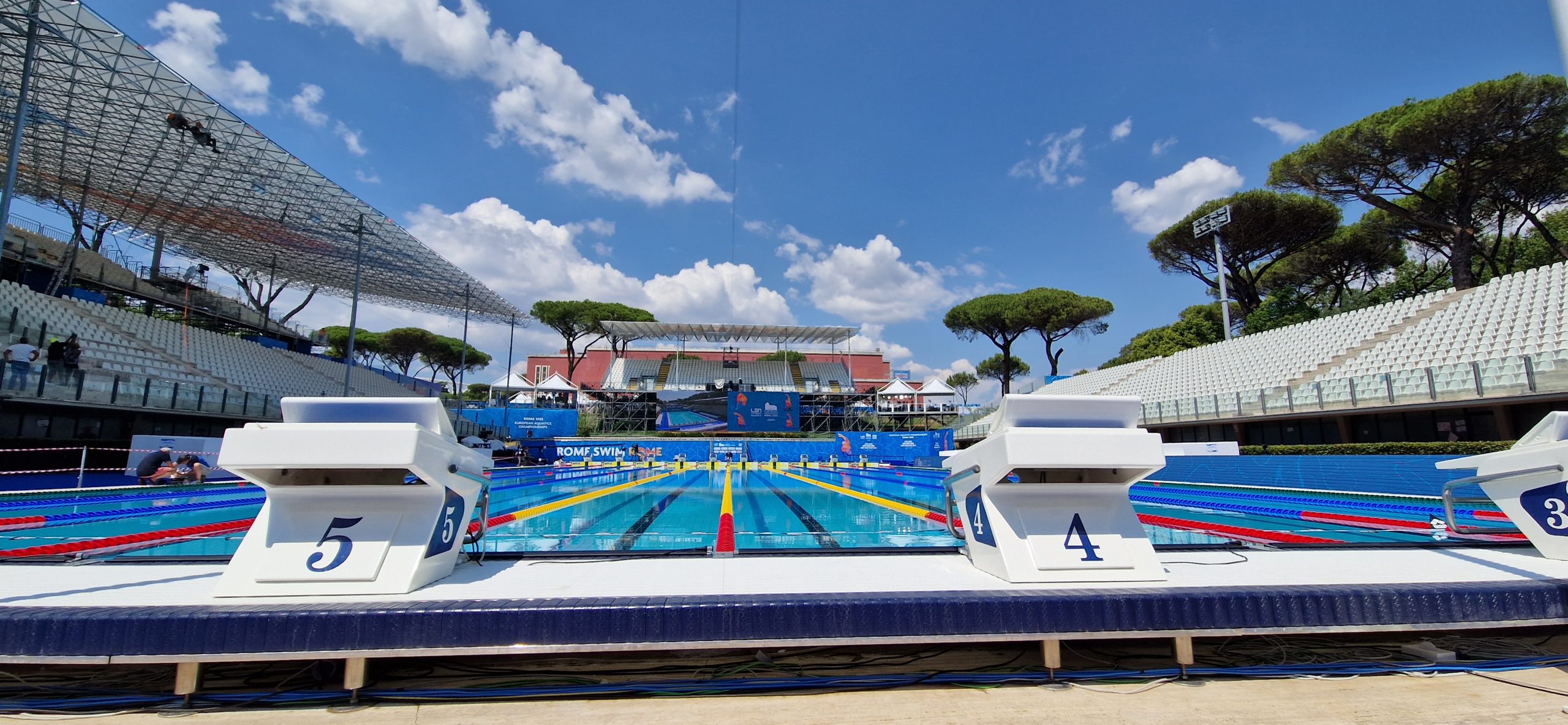 Foto's door: Demian Kortekaas