FINA World Championship in Budapest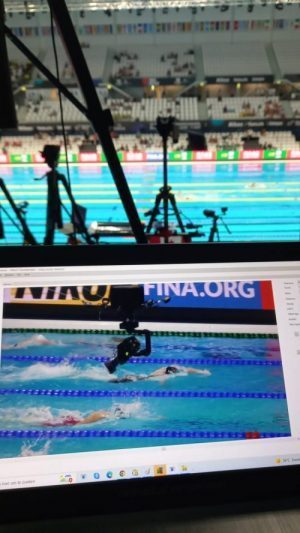 He was non-stop filming and analyzing all the races where our national swimmers competed, to calculate the velocity of the swimmers in different parts of the race.
In the analysis the races is divided in several segments: starts, turns, clean swimming and finish. The first part of the analysis consists of the starting time, which is the time it takes the swimmer to reach the 15 meter mark. During the clean swimming segments velocity, stroke frequency and stroke length of the swimmers are measured. In 100m races and longer distances also the turn times are measured. In every race the time it takes to swim the last 5m is defined as the finish time.
Finally, the coaches look at a dashboard to the results of the analyses. They discuss with the swimmers about the feelings they had during the race session and compare the race with other races that they have in the database to see the differences and how to improve the race strategy for the next race.
During the swimming tournament in the Duna Arena the Dutch team won 2 world medals: 1 silver in the category of 100 meters breaststroke and 1 bronze in the category of mixed 4×100 meters medley relay.
Arno Kamminga was the winner of the silver medal and also one of the winners of the bronze one, which was a team medal. The other winners of the relay were Kira Toussaint, Nyls Korstanje and Marrit Steenbergen.
Coming Sunday, 6 of our analysts will depart to Bucharest, Romania to work at the European Junior Championships. Together with British Swimming they will film all races for the LEN (Ligue Européenne de Natation) and share the races with analysts of all the participating countries. Besides that they will analyze the races of the Dutch talents which participate.
——————————————————
Text by David Herreros Navarro. Pictures by (Carlo van der Heijden).