Over 150 swimmers were tested for talent identification and development research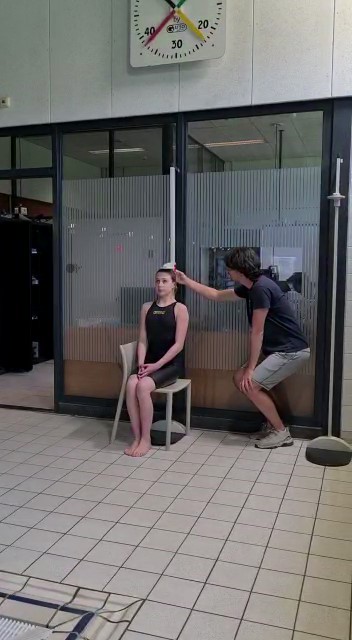 A lot of young swimmers came last Friday, Saturday and Sunday to participate in the National Junior Championships (NJK). This championship took place in the Pieter van den Hoogenband Swimming Stadium in Eindhoven
In the meantime, InnoSportLab de Tongelreep facilitated tests for these young athletes. These tests took place in the training pool as a part of the talent identification & development project of Aylin Post. 
This project is a cooperation of KNZB, RUG/UMCG and InnoSportLab de Tongelreep (ISLT).
ISLT brought together a group of workers and volunteers to perform these measurements to collect data of the swimmers, which will be used to gain insight in the development of the Dutch junior swimmers. 
The pool, in which the measurements were taken, was divided into several sections. This was done in order to make the turnaround time as short as possible.
First, they had to be registered in the system. Then the NJK swimmers approached the first section, in which the InnoSportLab representatives measured their armspan, and their jump height. 
Secondly, they headed to another section, in which they had to do a sprint. During this test, the swimmers sprinted 25 meters from the middle of the pool. These swims were recorded with a video camera and, as a result, swimming velocity, stroke length and stroke frequency will be calculated. 
Finally, after the sprint, the swimmers left the water to get their height and also the hand length measured. When these measurements are over they returned to the swimming stadium to proceed with the competition.
After some intensive days researcher Aylin Post looked satisfied:
"I think we performed high quality measurements this weekend and welcomed the athletes with a friendly face, which made it a nice experience for them!" she said.
Text by Cristian Graziano Fortes. Pictures by Aylin Post.