Aylin Post investigates swimming talent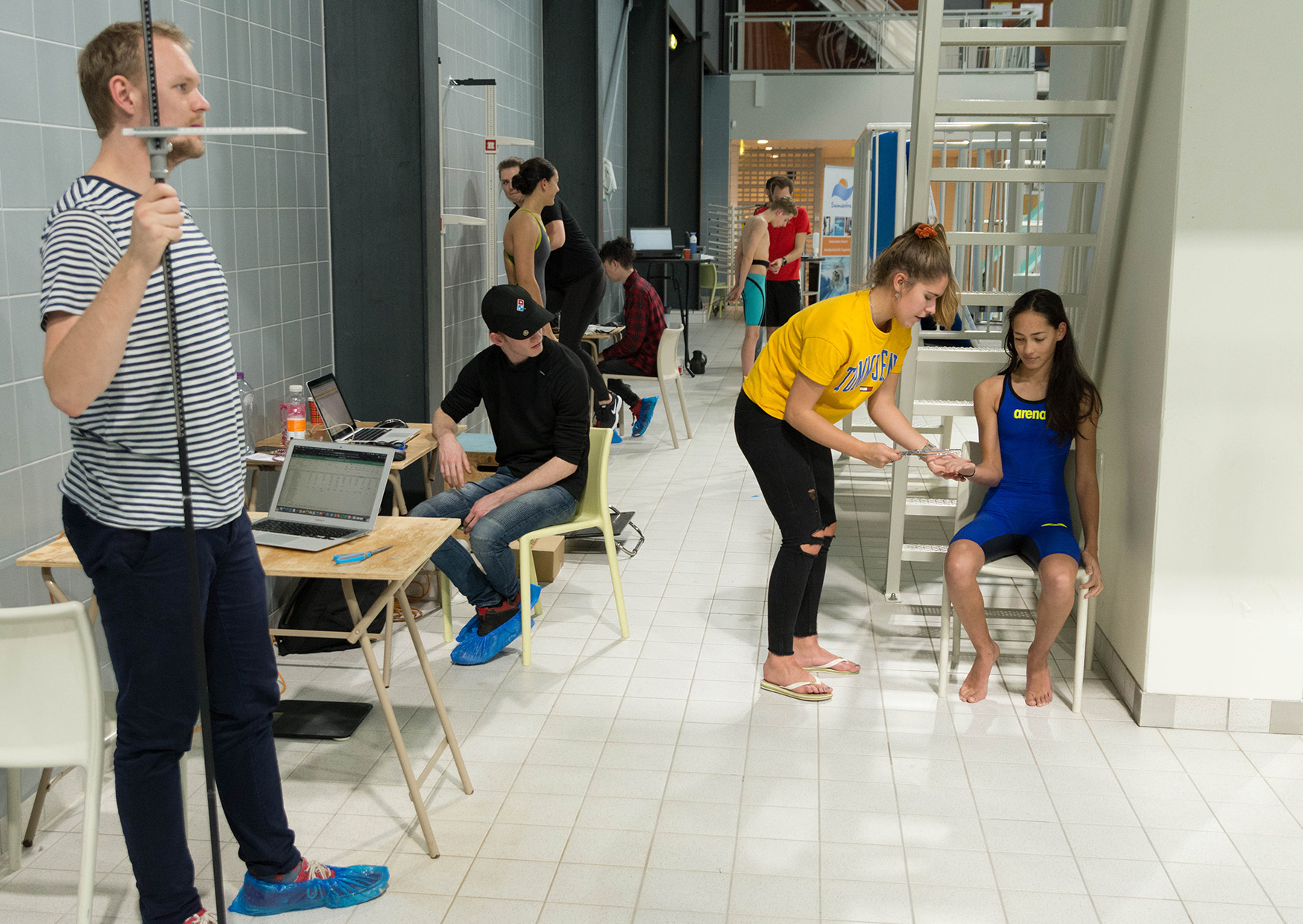 Aylin Post investigates swimming talent
What is in fact swimming talent, how do you identify and develop swimming talents? Aylin Post, embedded scientist at InnoSportLab de Tongelreep, is intrigued by such questions. She is working on a PhD project that focuses on swimming talents in the age range between 12 and 22 years. Over a period of four years she monitors young swimmers who compete in the Dutch Youth and Junior Championships (Nederlandse Jeugd en Junioren Kampioenschappen, or NJJK) short and long lane swimming, as well as Dutch selection swimmers (opleidingscentra, OC).
Every year there are five moments when Aylin measures the swimmers on several factors in a measuring line. That is necessary, she says: "Only if you follow the development of swimmers over a longer period do you have a chance to find out what contributes to a good swimming performance in the future."
Aylin is conducting her research together with the University of Groningen (RUG) and the Royal Dutch Swimming Federation (KNZB). Within the field of human movement sciences the RUG focuses on the niche talent development. Associate professor Marije Elferink-Gemser and professor Chris Visscher of the RUG guide Aylin with her research.
The KNZB has built up an entire structure to groom talents, says head coach talent development Mark Faber: "For us it is important to know which talents we need to place in that structure in order to be successful in the future." Aylin's research is a collaboration between the RUG, KNZB and InnoSportLab de Tongelreep.
What is talent really?
Aylin: "Everyone has an image of talent, but if you have to explain what it is, that is rather difficult." In the context of her PhD research Aylin defines someone as talented "if that person outperforms his or her peers during training and competitions, and has the potential to reach the top". That potential is very important, Aylin continues. "It is not just about now, but also about what is in store for the future. What are you capable of? That is difficult to measure in any sport."
Growth spurt
Every child is different. Not only the difference btween boys and girls plays a role, also puberty is an important factor. During this time so much changes, Aylin explains. "Your body changes, but so do your interests and motivation." It is not surprising that a boy of 14, who is 1.80 meter tall and almost grown out, swims faster than a boy of the same age who is still growing, says Aylin. "If you only look at time, that faster guy is more likely to be labelled a talent than the other. But that boy of 1.60 meter can be a head taller in a year and suddenly start swimming top times. Provided he gets the right guidance."
In her research, Aylin therefore not only looks at age, leg length, arm length and width, hand with, foot length, weight, jumping power, and how fast someone swims. The number of training hours and the degree of 'self-regulation', which are assessed with a questionnaire, are also important measurement points. 'Self-regulation' is defined here as the extent to which someone takes responsibility for one's own learning process, and is involved in one's own development, including the capability to reflect on one's own behavior.
Aylin monitors all these variables over a longer period of time. All competitors in the NJJK, about five hundred in total, can participate in the research. The swimmers of the current 'talent program' (or OC) of the KNZB are measured systematically (i.e. at each measurement occasion).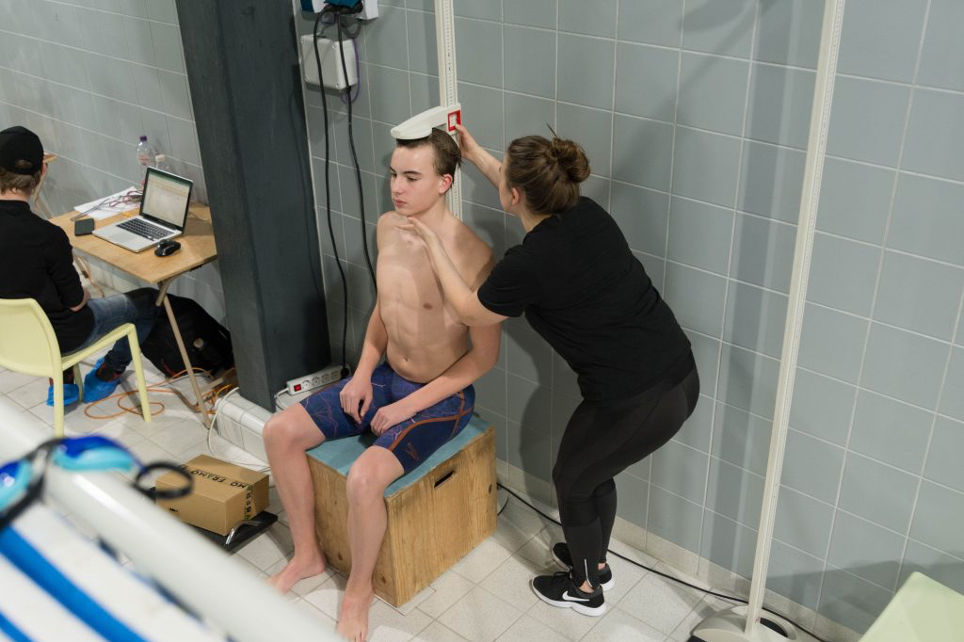 An educated guess
"Ultimately you want to look at more than the current performance. If you only look at that, you will miss out on people who still have the potential to reach the top." Of course it is always a gamble, Aylin admits. " Apart from personal factors, the environment plays a major role in development. For example a coach or parents. You cannot always influence that. But on the basis of my research you can make an educated guess."]
"It is an important study for us", says Mark Faber. "We want to find out more about talents and how we can best identify talents. We now do this mainly by looking at performane over time. We have learned in the past decades that performance over time is not by definition a good indicator to disover and identify real swim talents. In many cases performance over time is good indicater, but there are more components that are relevant for identifying and developing talent."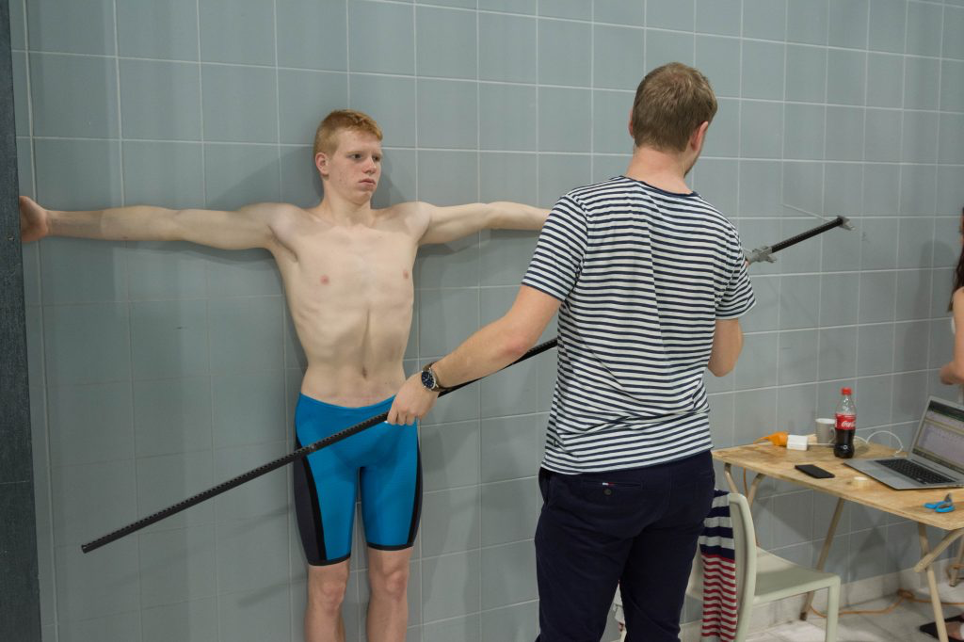 Comparing data
Twenty years ago, the national talent program already included measurements, Mark continues. "We conducted these in a measuring line. Analysis of strength, starts, turning points and stroke technique was essential. However, we never compared these data with other measurable facts. This is done now the first time in Aylin's research."
Patience
Of course, such research takes time and you can only say something definite in the long run. Mark: "You are hoping that striking trends will be discovered, leading to new knowledge on the basis of which we can adjust our approach or policy. Nevertheless, we will have to be patient and take the time to measure and interpret all relevant matters. We are very hopeful that this research will provide us with insights that we can actually use."
The study consists of five sub-studies. The initial investigation was completed last year. In it, Aylin investigated the performance development of top swimmers, i.e., swimmers who, over the past twenty years, belonged to the best eight swimmers in the world. She looked at their development from the age of 12 onwards. What were their seasonal best times? How fast did they swim when they were 14, 15 and 16 years of age, and so on? She compared those data with data from swimmers who did not make it to the top.