Aylin Post onderzoekt zwemtalent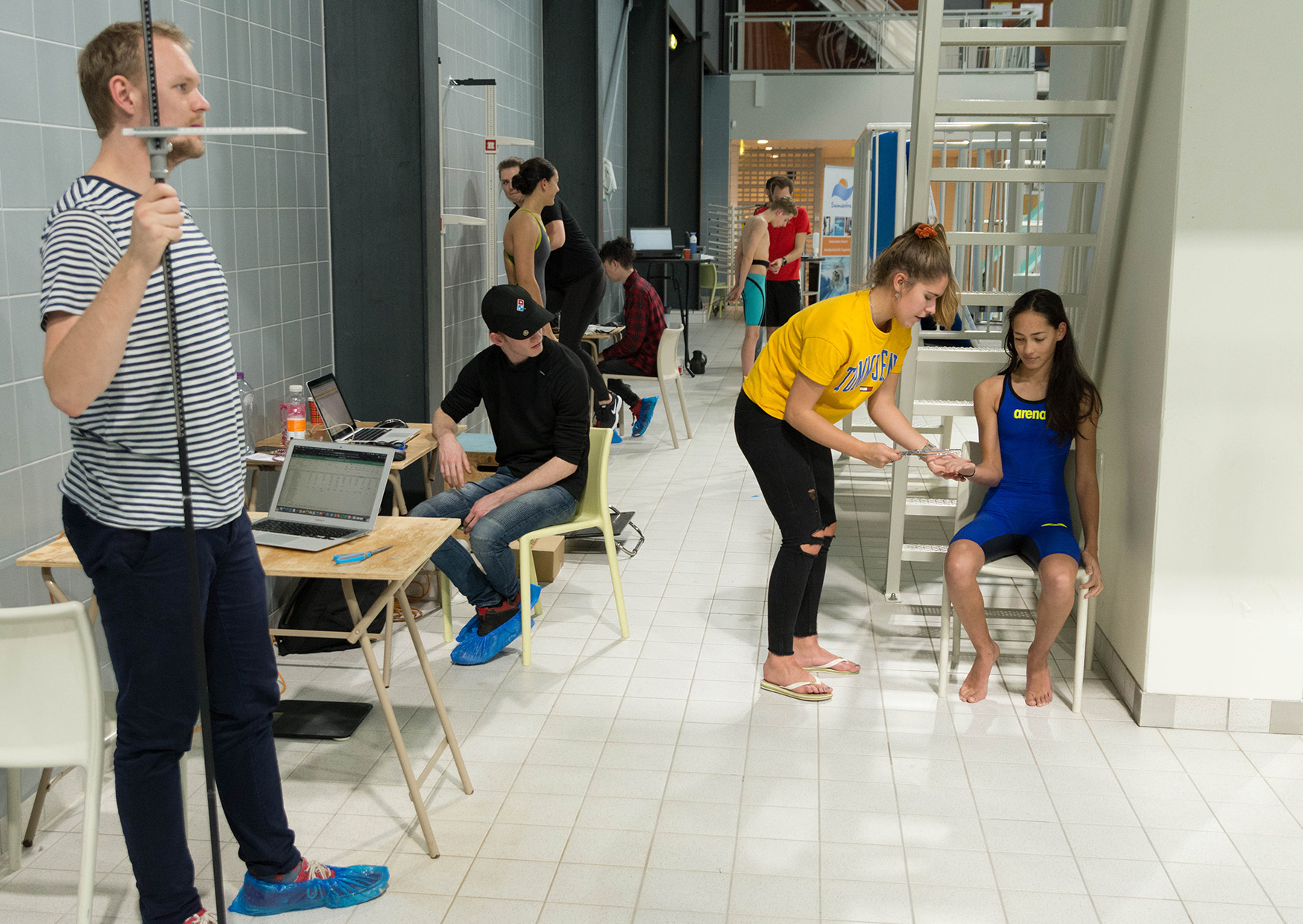 Aylin Post onderzoekt zwemtalent
Wat is eigenlijk talent, hoe ontdek en ontwikkel je een talentvol zwemmer? Vragen die Aylin Post, embedded scientist bij InnoSportLab De Tongelreep, intrigeren. Ze promoveert op het onderwerp talent bij zwemmers in de leeftijd van 12 tot en met 22. Vier jaar lang houdt ze jonge zwemmers die meedoen aan de Nederlandse Jeugd en Junioren Kampioenschappen (NJJK) korte en lange baan, en de zwemmers in de Nederlandse selectie (opleidingscentra, OC) in de gaten.
Elk jaar zijn er vijf momenten waarop Aylin de zwemmers in een meetstraat, op meerdere factoren, meet. Dat is nodig, zegt ze: "Alleen als je de ontwikkeling volgt over een langere periode heb je kans te achterhalen wat bijdraagt aan een goede zwemprestatie in de toekomst."
Aylin voert haar onderzoek samen met de Rijksuniversiteit Groningen (RUG) en de Koninklijke Nederlandse Zwembond (KNZB) uit. De RUG richt zich binnen bewegingswetenschappen op de niche talentontwikkeling. Vanuit de RUG begeleiden universitair docent Marije Elferink-Gemser en professor Chris Visscher Aylin met haar onderzoek.
De KNZB heeft een hele structuur opgebouwd om talenten te begeleiden, vertelt hoofdcoach talentontwikkeling Mark Faber: "Voor ons is het belangrijk om te weten welke talenten we in die structuur moeten onderbrengen om in de toekomst succesvol te zijn." Aylins onderzoek is een samenwerking tussen de RUG, KNZB en het InnoSportLab De Tongelreep.
Wat is talent eigenlijk?
Aylin: "Iedereen heeft wel een beeld bij talent maar als je moet uitleggen wat het is, is dat lastig." Voor haar promotieonderzoek definieert Aylin iemand als talentvol "als die persoon beter presteert dan zijn leeftijdgenootjes tijdens trainingen en wedstrijden, en de potentie heeft om de top te halen". Die potentie is heel belangrijk, gaat de promovendus verder. "Het gaat niet alleen om nu, maar ook om wat er nog inzit. Waartoe ben jij in staat? Dat is in elke sport lastig om te meten."
In de groei
Ieder kind verschilt. Niet alleen het verschil tussen jongens en meisjes speelt een rol ook de puberteit. Dan verandert er zoveel, legt Aylin uit. "Je lichaam verandert maar ook je interesses en je motivatie." Het is niet raar dat een jongen van 14, die 1.80 lang is en bijna uitgegroeid, harder zwemt dan een jongen van dezelfde leeftijd die nog in de groei zit, stelt Aylin. "Als je alleen naar tijd kijkt, krijgt die snellere jongen eerder het label talent dan die ander. Maar die jongen van 1.60 kan over een jaar een kop groter zijn en ineens toptijden gaan zwemmen. Mits hij de juiste begeleiding krijgt."
In haar onderzoek kijkt Aylin daarom niet alleen naar leeftijd, beenlengte, armwijdte, breedte van de hand, lengte van de voet, gewicht, sprongkracht, hoe snel iemand zwemt. Ook het aantal trainingsuren en 'zelfregulatie' zijn meetpunten, die komen terug in een vragenlijst. Waarbij 'zelfregulatie' de mate is waarin iemand de verantwoordelijkheid neemt over zijn leerproces of betrokken is bij zijn ontwikkeling, onder meer door te reflecteren op het eigen gedrag.
Al die verschillende factoren meet Aylin over een langere periode. Alle deelnemers aan de NJJK, dat zijn er zo'n vijfhonderd, kunnen eraan meedoen. De zwemmers die onderdeel van van het huidige 'talentenprogramma', OC, van de KNZB laten zich sowieso elke keer meten.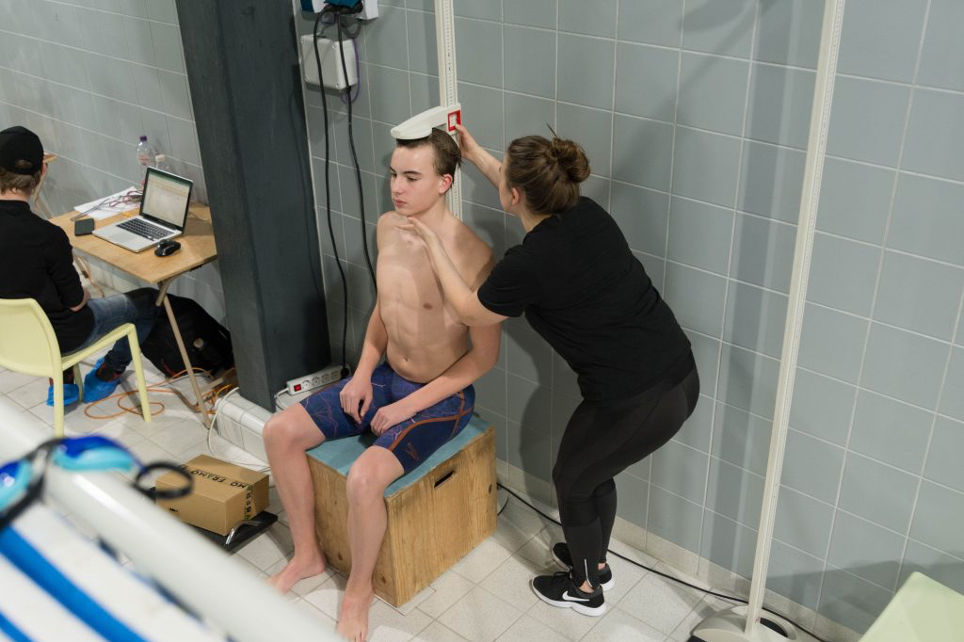 Een onderbouwde gok
"Uiteindelijk wil je naar meer kijken dan de huidige prestatie. Als je alleen daarnaar kijkt mis je gewoon mensen die toch de potentie hebben om de top te bereiken." Natuurlijk blijft het altijd nog een gok, bekent Aylin. "Los van persoonlijke factoren speelt de omgeving een grote rol in de ontwikkeling. Bijvoorbeeld een coach of ouders. Daar heb je niet altijd invloed op. Maar met mijn onderzoek maak je wel een onderbouwde gok."
"Het is voor ons een belangrijk onderzoek", zegt Mark Faber. "Wij willen meer te weten komen over talenten en hoe wij talenten het beste kunnen identificeren. Dat doen we nu vooral door te kijken naar prestaties in tijd. We hebben in de achterliggende decennia gezien dat prestatie in tijd niet per definitie alleen de prestatie in tijd een goede graadmeter is om de echte talenten te ontdekken en identificeren. In een aantal gevallen is dit een goede indicatie, maar er zijn meer componenten die relevant zijn voor het identificeren en ontwikkelen van talent."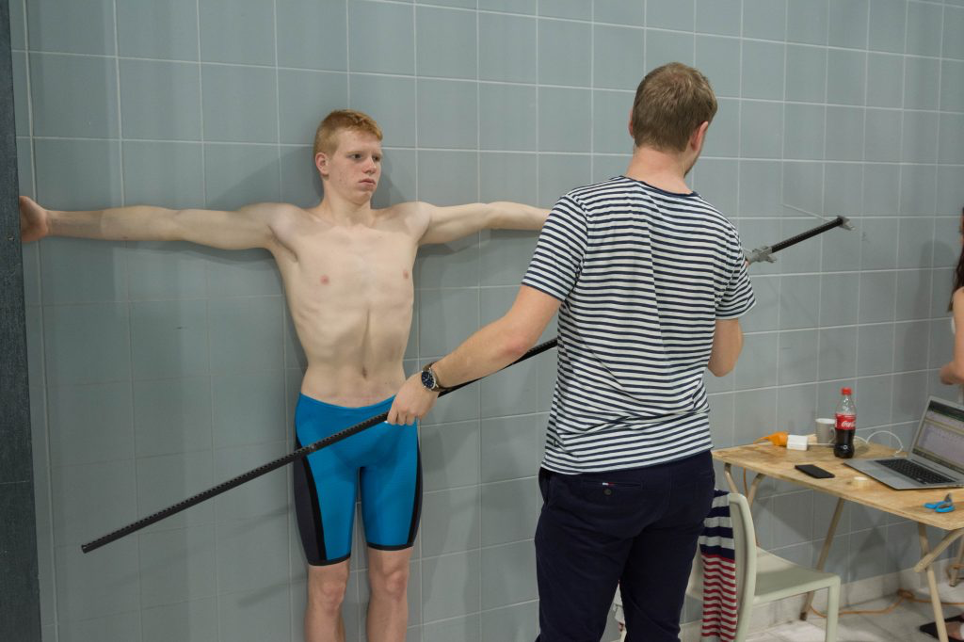 Data vergelijken
Twintig jaar geleden omvatte het nationale programma met talenten ook al metingen, gaat Mark verder, "Dit deden we in een meetstraat. Analyse van kracht, starts, keerpunten en slagtechniek stond centraal. We hebben deze data nooit vergeleken met andere meetbare feiten. Met het onderzoek van Aylin is dit wel het geval."
Geduld
Zo'n onderzoek kost natuurlijk tijd je kunt pas op termijn iets zeggen of het zo is. Mark: "Je hoopt gedurende het onderzoek al opvallende trends te ontdekken waarmee we meer krijgen en onze aanpak of ons beleid kunnen aanpassen. Toch zullen we geduld moeten hebben en de tijd moeten nemen om alle relevante zaken te meten en te interpreteren. We zijn heel hoopvol dat dit onderzoek ons inzichten gaat opleveren waar we echt mee aan de slag kunnen.."
Het onderzoek bestaat uit vijf deelonderzoeken. Waarvan het eerste onderzoek is vorig jaar afgerond. Daarin onderzocht Aylin de prestatieontwikkeling bij topzwemmers: zwemmers die, de afgelopen twintig jaar, bij de beste acht van de wereld hoorden. Bij hen keek ze naar de ontwikkeling vanaf 12 jaar. Wat waren steeds hun seizoens beste tijden? Hoe hard zwommen ze toen ze 14 waren en 15 en 16 enzovoorts? Ze vergeleek dat met zwemmers die de top niet halen.