Zwem, spring en ren je rot tijdens zwemclinic voor Voortgezet Speciaal Onderwijs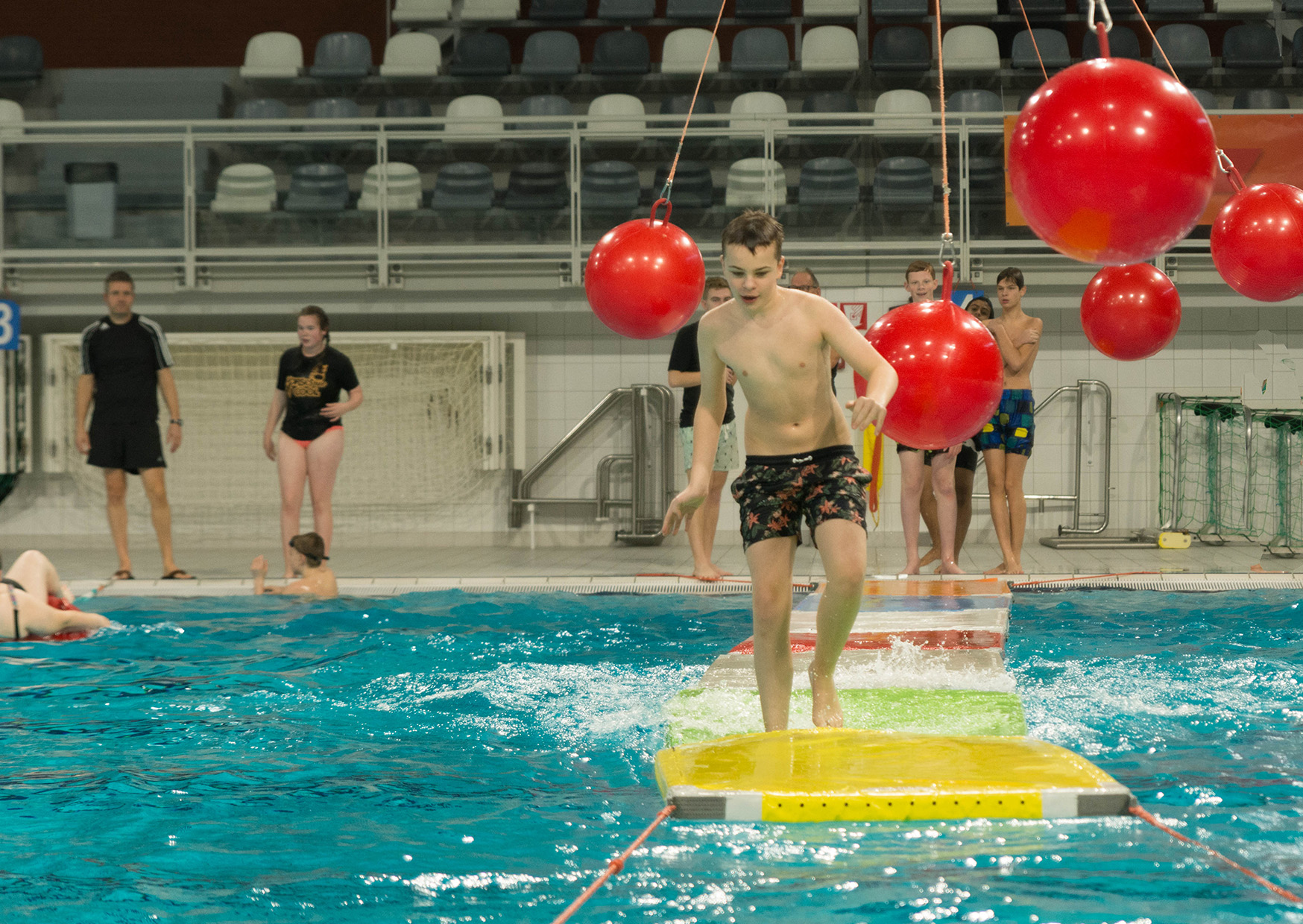 Over matten op het water rennen, hangende grote rode ballen ontwijkend en aan het eind in het water springen. Jezelf aan een touw vooruit trekkend door het water, met een grote rode zwemband om. Springen vanaf de kant in een grote open cirkel die in het water ligt. Allemaal onderdelen van een zwemclinic. Zo'n zeventig kinderen met een verstandelijke beperking genieten zichtbaar van de variatie die er in het vijftig meter bad van De Tongelreep te vinden is.
Stichting Samen Sportief en het project Uniek Zwemmen in Brabant zijn de organisatoren van de zwemclinic. Waar de stichting de ambitie heeft om kinderen, mensen met een beperking en senioren die niet sporten aan het bewegen te krijgen, wil Uniek Zwemmen in Brabant de de zwemsport toegankelijker maken voor mensen met een beperking en zoveel mogelijk mensen met een beperking kennis laten maken met de verschillende zwemsporten.
Eva Lindeman, van Stichting Samen Sportief zocht naar de sponsoren voor het event, waar de de scholen voor voortgezet speciaal onderwijs zich kosteloos voor konden inschrijven. Ook regelde zij de locatie. Projectmedewerker Patrick Toonders van Uniek Zwemmen in Brabant zorgde voor de begeleiding van het waterbasketballen en wedstrijdzwemmen tijdens de clinic. Toonders is bewegingswetenschapper bij InnoSportLab De Tongelreep en vanuit die rol betrokken bij Uniek Zwemmen in Brabant.
Toonders zocht de samenwerking met Stichting Samen Sportief om mensen met een beperking kennis te laten maken met de zwemsport. Het is een van de clinics en event die hij, met andere partijen, zoals Stichting Samen Sportief, organiseert. Tijdens de clinic doen de kinderen niet alleen mee aan de waterspellen maar ze maken ook kennis met wedstrijdzwemmen en waterbasketbal. Lindeman: "Wellicht dat de kinderen daardoor in hun vrije tijd willen zwemmen."
"De scholen vinden het fantastisch als ze een keer iets anders kunnen doen", gaat Lindeman verder. "Voor de meeste scholen is sporten een belangrijk onderdeel en het verbroedert en je kan heel veel dingen leren tijdens sporten dus de scholen vinden het fantastisch als je het aanbiedt." Zo zien de kinderen dat er veel meer kinderen zijn een zelfde niveau en kaliber, legt Lindeman uit.
Organisatorisch lopen de scholen wel tegen dingen aan, merkt ze. Het ligt niet voor elke school voor de hand hierbij te zijn. "Ze moeten hier zelf naar toe komen en een bus regelen. Wij communiceren met de gymdocenten en die regelt het met de directie. Ook vragen we de scholen of ze een onderdeel willen bemannen." In eerdere edities regelde Lindeman ook de begeleiding. "Dat waren dan stagiaires van bijvoorbeeld sporthogescholen. Een groep die lastig bij elkaar te krijgen was. Dan hadden zich er acht gemeld en kwamen er maar vijf. Dat kan niet bij deze doelgroep."
"Met deze groep is het belangrijk dat er genoeg mensen zijn, maar ook bekende mensen", gaat Lindeman verder. De meeste scholen komen met drie, vier of vijf man. "Zij kennen de kinderen het beste. Voor de kinderen is het ook drempelverlagend als de begeleiding met de kinderen mee loopt."
Dit keer zijn er drie scholen: Scholengemeenschap De Keyzer uit Tilburg, Hub Noord-Brabant uit Boxtel en De Groote Aard uit Eersel. Frank Bullens werkt als leraar lichamelijk onderwijs bij De Groote Aard. Ook hij begeleidt die dinsdag een spel: leerlingen die zich met een grote zwemband om zich heen voorttrekken aan een touw. Tussen het opletten door heeft hij even tijd voor wat vragen.
Bullens is er dit jaar voor de tweede keer. Vorig jaar beviel zo goed dat ze er dit jaar weer zijn met tweeëntwintig leerlingen. "Wij proberen de leerlingen om buitenschool ook dingen te doen zoals fitness, kimmen en mountainbiken. Dat doen andere kinderen van hun leeftijd ook." Bij deze groep kinderen is meedoen niet iets vanzelfsprekends, legt Bullens uit. "Het werkt bij hun het beste als er geen wedstrijdelement in zit. Dat het gewoon puur voor de fun is, dat er niets moet. Dat zie je bij ons op het speelplein ook een potje voetbal leidt geheid tot conflicten."
Veel van de kinderen hebben een 'handleiding', vertelt Bullens. "Daarom is het goed dat ze bij dit event de scholen niet mixen. Wij hebben de handleiding van die andere kinderen niet. Van onze kinderen hebben we die wel, maar ook kan elke dag veranderen. Geen dag is hetzelfde."
Leerlingen Gijs en Dylan van Hub Noord-Brabant roepen "geweldig" op de vraag wat ze van de dag vinden. "Alles is even leuk", zegt Dylan. Al had Gijs het wel leuk gevonden als hij van de grote duikplank had gemogen, bekent hij. Ook hebben ze een tip voor de organisatie: "Die plankjes (wedstrijdzwemmen, red.) en basketballen was te snel achter elkaar, het was leuker geweest als daar wat meer rust tussen zat."
Het project Uniek Zwemmen in Brabant is een samenwerking tussen InnoSportLab de Tongelreep en ir. Otten Fieldlab Aangepast Sporten van Libra Revalidatie en Audiologie. Tot eind 2020 loopt het project door. De zwemclinic is mogelijk gemaakt met de financiële steun van De Dirk Kuyt Foundation, Fonds Gehandicaptensport en Uniek Sporten Brabant.