Swim, jump and run like crazy during a swimming clinic for Secondary Special Education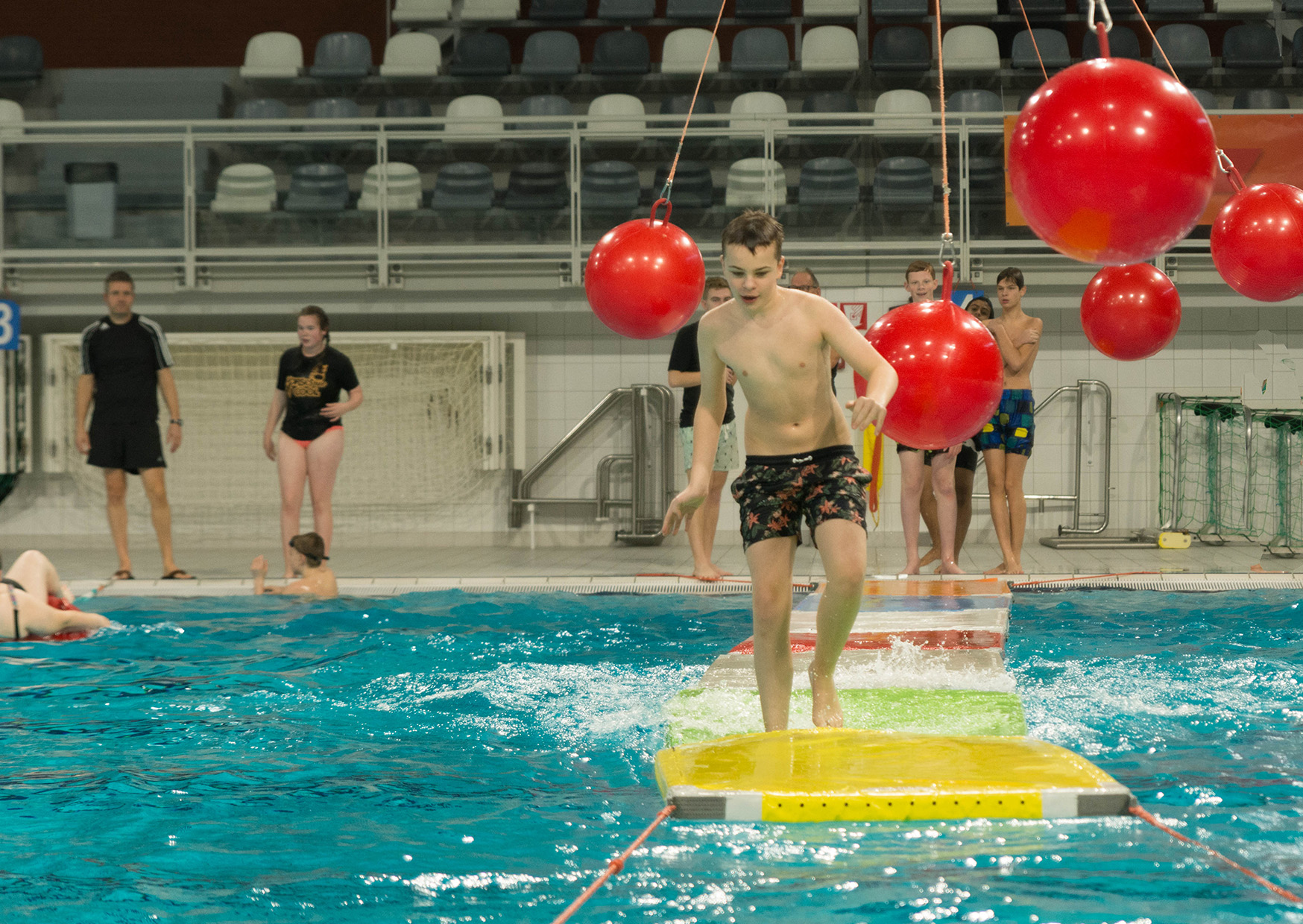 Running over mats floating on the water, dodging suspending big red balls and jumping into the water at the end. Pulling youself forward through the water on a rope, while wearing a large red swimming ring. Jumping from the pool sied into a large open circle that drifts on the water surface. All activities that are part of a swimming clinic. About seventy children with intellectual disabilities visibly enjoy the variety of activities that are offered in the fifty-meter of de Tongelreep.
Stichting Samen Sportief and the project Uniek Zwemmen in Brabant organized the swimming clinic. While the aim of the Foundation is to stimulate exercise in children, people with a disability and senior citizens who do not exercise, kinderen, Unique Swimming in Brabant wants to make swimming more accessible for people with a disability and to introduce as many people with a disability as possible to the various swimming sports.
Eva Lindeman of the Foundation Sporty Together was looking for sponsors for the event, for which the schools for secondary education could register free of charge. She also arranged the location. Project employee Patrick Toonders of Unique Swimming in Brabant took care of the supervision of the water basketball and competitive swimming during the clinic. Toonders is a sports scientist at InnoSportLab de Tongelreep and through that role he became involved in Unique Swimming in Brabant.
Toonders was looking for a partnership with Stichting Samen Sportief in his pursuit to introduce people with a disability to swimming. It is one of the clinics and events that he organizes with other parties, like Stichting Samen Sportief. During the clinic, the children not only participate in the water games, but they are also introduced to water basketball and competitive swimming." Lindeman: "Perhaps that is why the children want to swim in their free time."
"The schools are thrilled when they do something different for once," Lindeman continues.  "For most schools, sports is an important part of the curriculum because it brings people together and you can learn a lot of thinds during sports, so the schools think it is fantastic when you offer a sports activity." For instance, the children see that there are many more children of the same level and caliber, Lindeman explains.
From an organizational point of view, the schools do run into issues, she has noticed. It is not obvious for every school how to do this. "They have to come here themselves and arrange a bus. We communicate with the gym teachers and they arrange the activity with the management. We also ask the schools if they want to man a part." In previous editions Lindeman also arranged external supervisors. "They were interns from sports schools, for example. A group that was difficult to bring together. Then eight would sign up and only five would come. That is not possible with this target group."
"With this group it is not only important that there are enough people, but also that they are acquaintances", Lindeman explains. Most schools come with three, four or five people. "They know the childeren best. It also lowers the threshold fort he childrens if the supervisors walk along with the children."
This time there are three schools: Scholengemeenschap De Keyzer from Tilburg, Hub Noord-Brabant from Boxtel and De Groote Aard from Eersel. Frank Bullens works as a physical education teacher at De Groote Aard. He also supervises a game that Tuesday: pupils pulling themselves on a rope with a large swimming band around them. In between watching, he has some time for some questions.
Bullens is here for the second time this year. Last year was so good that this year they are there again with twenty-two pupils. "We try to get the pupils to do things like fitness, climbing and mountain biking outside of school. Other children of their age do the same". With this group of children, participation is not something obvious, Bullens explains. "It works best for them if there is no element of competition in it. That it's just for fun, there is no pressure. A game of football on our playground for example, can lead to a conflict".
Many of the children have a 'manual', Bullens says. "That's why it's good that they don't mix the schools at this event. We don't have the manual of those other children. We do have it for our children, but it can change every day. No day is the same."
Pupils Gijs and Dylan of Hub Noord-Brabant shout "great" when asked what they think of the day. "Everything is just so much fun", Dylan says. Although Gijs would have liked it if he had jumped the big diving board, he confesses. They also have a tip for the organisation: "Those boards (competition swimming, ed.) and basketball were too fast in a row, it would have been more fun if there had been a bit more rest between them".
The project Unique Swimming in Brabant is a collaboration between InnoSportLab de Tongelreep and Otten Fieldlab Adapted Sports of Libra Rehabilitation and Audiology. The project will continue until the end of 2020. The swimming clinic has been made possible with the financial support of the Dirk Kuyt Foundation, Fonds Gehandicaptensport and Uniek Sporten Brabant.